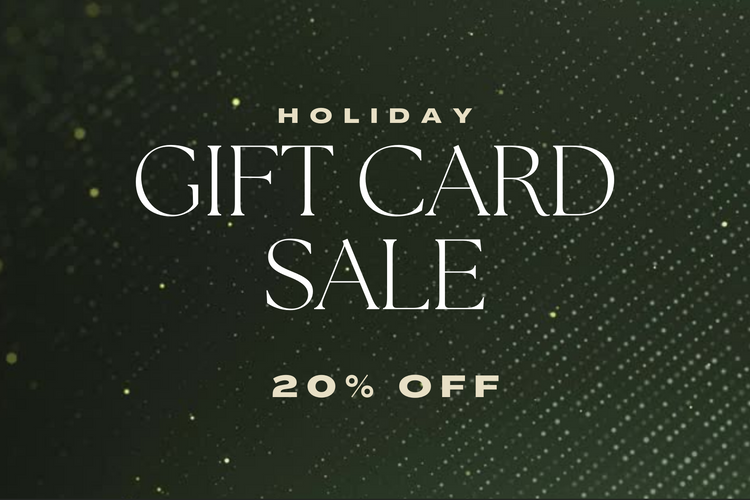 Get 20% off gift cards during our two-day sale!
Shop December 3rd-4th and save 20% on all gift cards! Offer is valid in-store and online with promo code 2DAY. To order online, choose from the options below to select a plastic gift card to receive in the mail or a virtual e-card that is sent within 10 minutes via email. The discount can be added to your order on the checkout page with the promo code 2DAY.
 Gift card orders are processed and shipped within two business days. Due to expected shipping delays, we cannot guarantee delivery date and are not responsible for late arrivals. At checkout, please select USPS or UPS Express shipping. For immediate delivery, select a virtual e-card to be sent via email.
Gift cards can be redeemed at any 4TopHospitality location.
Offer ends December 4, 2023 at 11:59pm CST. View our privacy policy here.
Select a restaurant to purchase gift cards:
Gift Card FAQs
Can I earn or redeem loyalty points on a gift card transaction?

Rewards points cannot be accumulated or applied towards the purchase of gift cards, however, you can earn points when a gift card is redeemed. Points are not accumulated on the redemption of bonus/promotional cards.
How do I correct or update the email address on my virtual gift card order?
I accidentally entered my billing address as the shipping address. How do I update that?
I purchased a gift card as part of the holiday gift card promotion. Can I have the bonus gift card sent to a different address?

Sure! Just let us know in your order notes where you'd like the bonus card sent. Or, send us an email at help@4tophospitality.com if you'd like the bonus card sent to a different address than the gift card order.
How do I track my gift card?

All physical gift cards are processed within two business days and sent via USPS first-class mail. For tracking information to be available, USPS First Class With Tracking is an alternative shipping option to be selected at checkout.

Please note that extended shipping delays are expected due to delays with the United States Postal Service. We are unable to provide tracking information for items shipped without USPS First Class Mail with Tracking, nor can we guarantee an estimated arrival date. To guarantee shipment by a certain date, please select UPS Express 2-day shipping or order a virtual gift card.
How do I enter my promo code?

The code can be entered on the checkout page after gift cards have been added to your cart. If there is a valid promotion, the cart will reflect the promotion total on the checkout page.
Can I apply more than one promo code per order?

Only one promo code per order can be used.
Do I have to use the virtual gift card in one single visit?

No, you are welcome to use the virtual card on multiple visits until the value is depleted. The single use number is issued to uniquely identify each gift card, but you do not have to use the full amount in one single visit.
Are gift card promotions valid in store and online?

Please refer to the details on each specific sale, as some promotions may only be valid for plastic OR virtual gift cards. Should you have any questions regarding a sale, please email help@4tophospitality.com.
How do I check my gift card balance?
What is your fulfillment policy?

View our fulfillment policy here.
Can I use my gift card at any of your other locations?

Our gift cards are accepted at any of our 4Top Hospitality family of restaurants, including Amerigo, Char, etch, etc., Jasper's and Saltine.
Shipping Notice
Please note longer shipping times are to be expected due to delays by the United States Postal Service. To guarantee shipment by a certain date, please select UPS Express shipping or a Virtual E-card.